Swimming, especially open-water swimming, and cold-water swimming have many health and mental benefits. Do consider a swimming pool that is in a closed position anyway, and how lucky you will be in that situation when it is at your doorstep. Swimming undoubtedly prepares your brain completely. When we swim, the brain and thoughts come close to the outside world and completely rearrange the mind and mood. There is no doubt that swimming can fully update our brains. Swimming can be done by anyone of any age at any time of the year, and, which is the only life-saving sport. It is said to have health and mental benefits such as reducing levels of arthritis, stress, and anxiety.
Swimming significantly reduces symptoms of anxiety and depression in adults and as a result, is unlikely to see a doctor who specializes in their mental health. It also revealed that people stopped or reduced their mental health medications due to swimming.
Adults are encouraged to embrace the benefits of swimming, which today is focused on the extreme, how these stresses can affect mental health, and how it feels to relax in the pool. Physical activity can have a positive impact on mental health by making swimming applicable to everyone, regardless of age or ability. Swimming can relax you, reduce stress, and be good for your heart. Moreover, this is the best all-around exercise that will keep you strong and healthy. There is good evidence that the more active you are, the lower the rate of depression at most ages. In fact, one study found that increasing your activity level by exercising at least three times a week can reduce your risk of developing depression by up to 30 percent.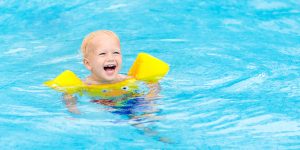 Why is it important for children to learn to swim?
Health and safety
As children's bodies grow, it is important to get enough exercise to burn off extra energy and fats, Swimming is the best low-impact cardiovascular exercise for your child and also has the benefits of safety and entertainment. It helps your child get a good night's sleep and has many benefits for the whole body.
Swimming helps develop strong bones and muscles and promotes flexibility and coordination. According to recent research by Speedo, swimming can help reduce stress and relieve stress.
However, it is important for children to learn how to respect water as quickly as possible, as even the most confident swimmers can have problems with the water. Even after children learn to swim, they should always be supervised around the water.
Confidence and life skills.
With each new stroke a child learns, they gain confidence and a sense of accomplishment. Learning to swim will help your child achieve goals and persevere until the goal is achieved. Swimming is also a great way to show your children what you can achieve with dedication and regular training. Speedo research has shown that swimming gives us more confidence in how we look.
Social benefits
Although swimming is generally an individual sport, swimming lessons provide an opportunity to develop your child's social skills. It includes how to treat others appropriately, how to respect the rights of others, how everyone has a different body, and how they learn at different rates.
Fun and interesting
Many children enjoy swimming in the pool, paddling pool, pool, or sea. Visit your very own local swimming pool and you will hear children screaming with joy as they explore a fun and exciting underwater world. Swimming is a great opportunity to spend quality time with your child, which means you can enjoy these benefits together.